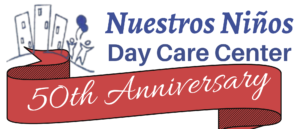 We are excited to announce that our program is turning 50 this year! Since 1973, we have been providing high-quality care and education to the children in our community. We are proud of our program's history and look forward to celebrating this milestone, stay tuned for more information about our anniversary events and activities!
For 50 years, Nuestros Niños has been dedicated to providing services and support to the children and families in the Williamsburg community. Nuestros Niños was founded and originated by John Mulhern, who became its first Executive Director. He, along with many community members, saw the need to build a better community and provide needed services to the residents of the area.
Our commitment has always been to create an excellent learning-centered environment that is safe, nurturing, educational, and stimulating both in the classroom and the playground. We aim to guide and support children as they take advantage of the learning opportunities embedded in every experience to help them attain the skills they need to succeed in school and life to reach their highest potential.